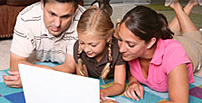 Who We Are
Discovery Education transforms classrooms, empowers teachers and captivates students by leading the way in providing high quality, dynamic, digital content to school districts large and small, rural and suburban and everything in between.
Accelerate student achievement in your district by capturing the minds and imaginations of students with the fascination of Discovery, tapping into students' natural curiosity and desire to learn. Discovery Education offers a portfolio of opportunities for districts to meet students where they want to learn in the digital age. With award- winning digital content, interactive lessons, real time assessment, virtual experiences with some of Discovery's greatest talent, classroom contest & challenges, professional development and more - Discovery is leading the way in transforming classrooms and inspiring learning.
"It is essential for students to have multiple and varied exposures to content in order for them to truly learn and understand it. Discovery Education is an invaluable resource in this respect, helping me to provide interactive media, visuals and videos that depict things that these students may never be able to see or be exposed to otherwise."
Nicole Wagner, Teacher, Tavan Elementary
What We Achieve
Implementation of Discovery Education impacts the way an educator teaches, providing them the digital content and the professional development to transform classroom instruction into an immersive, experience that inspires a student's natural curiosity. Discovery Education impacts the way students learn, breaking down barriers and moving beyond static textbooks to a digital delivery they already embrace. However, accelerating student achievement is the ultimate result we all want to reach. Discovery Education has worked with school districts across all sizes and demographics and consistently delivers results. We evaluate our services on both the qualitative (student engagement, teacher satisfaction and impact) and quantitative measures (test scores).
For example:
•Charlotte Mecklenburg School District (CMS): Dr. Peter Gorman's (Superintendent CMS) goal was a 3-5% gain in science scores over a very short time frame. A pilot program using Discovery Education Science led to double-digit gains in science scores year-over-year in CMS. Composite retest scores on North Carolina's science end-of-year exam for grades 5 and 8 increased by 26 points.